Crypto & equity markets continue to get pummeled. Decentraland has lots going on in terms of the Metaverse growth. Current events aside Decentral Games is moving forward with DAO proposals, ads for billboards, $ICE burns, and a host of happenings as we live the cryptoverse fallout.
Welcome to the 73rd edition of the Decentral Games Newsletter — our weekly newsletter that updates the community on:
Important news
Development progress
Treasury performance
Upcoming events
Join our Discord and follow our Twitter for more frequent updates.
---
✅ Summary
MANA Incentives for ICE-USDC LP
ICE Poker Go Alpha Test
ICE Poker Go Beta Test Sign Up
Metaverse Advertising
DG Hodler Roundtable
ICE Purchase and Burn
Development Focus
We're Hiring!
---
💰 MANA Incentives for ICE-USDC LP
Our Decentraland DAO proposal to allocate $1M USD in MANA to incentivize the ICE-USDC Quickswap liquidity pool is now in the 3rd and final stage.
Proposal voting ends on June 16th. If you hold MANA or Decentraland LAND, we urge you to vote on this proposal here.
We thank you and appreciate your continued support.
📱 ICE Poker Go Alpha Test
Last Tuesday, we began alpha testing ICE Poker Go — our new mobile game mode.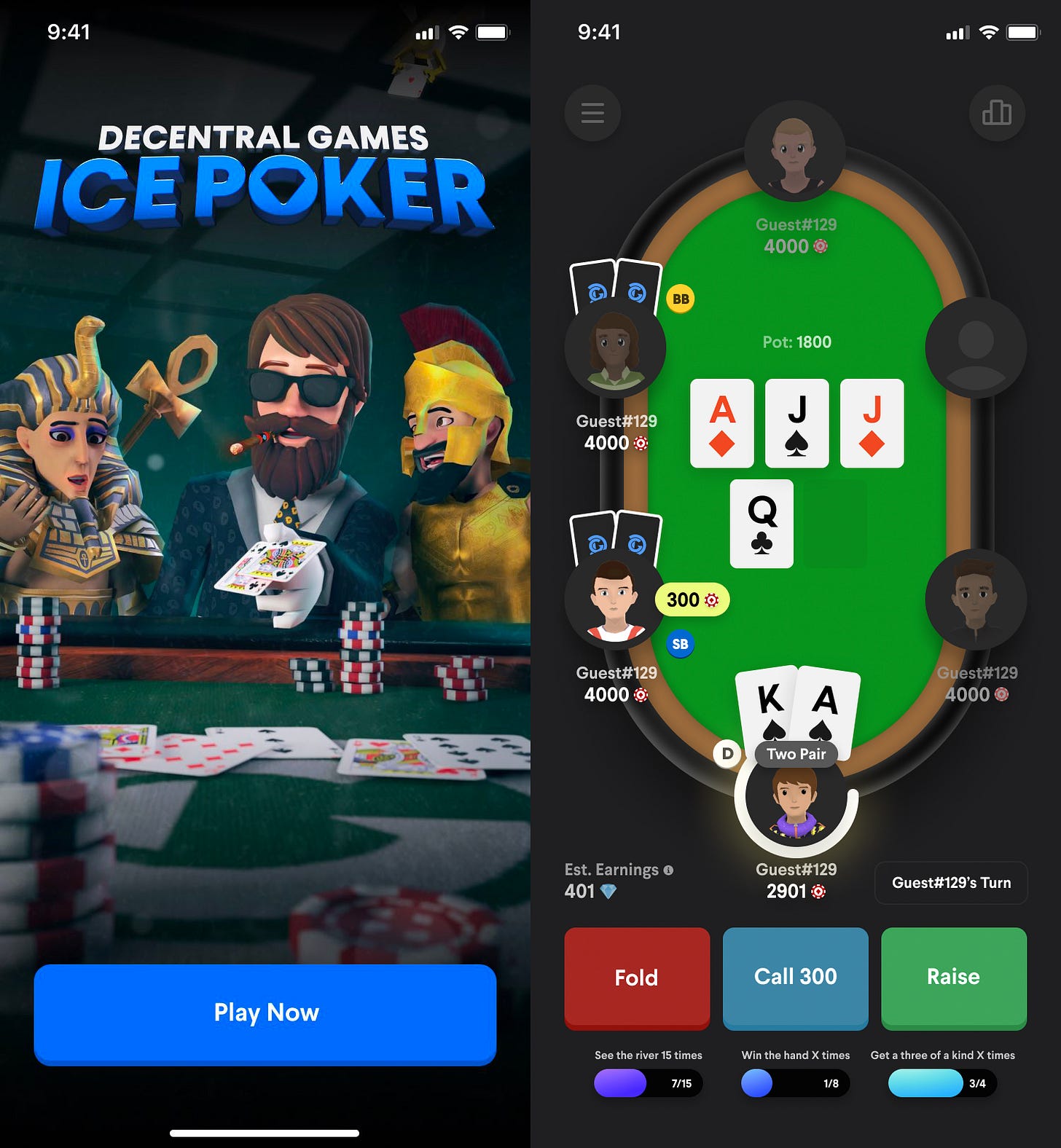 We ran our first alpha testing session with around 30 community members and it went smooth! Here's some of the initial feedback: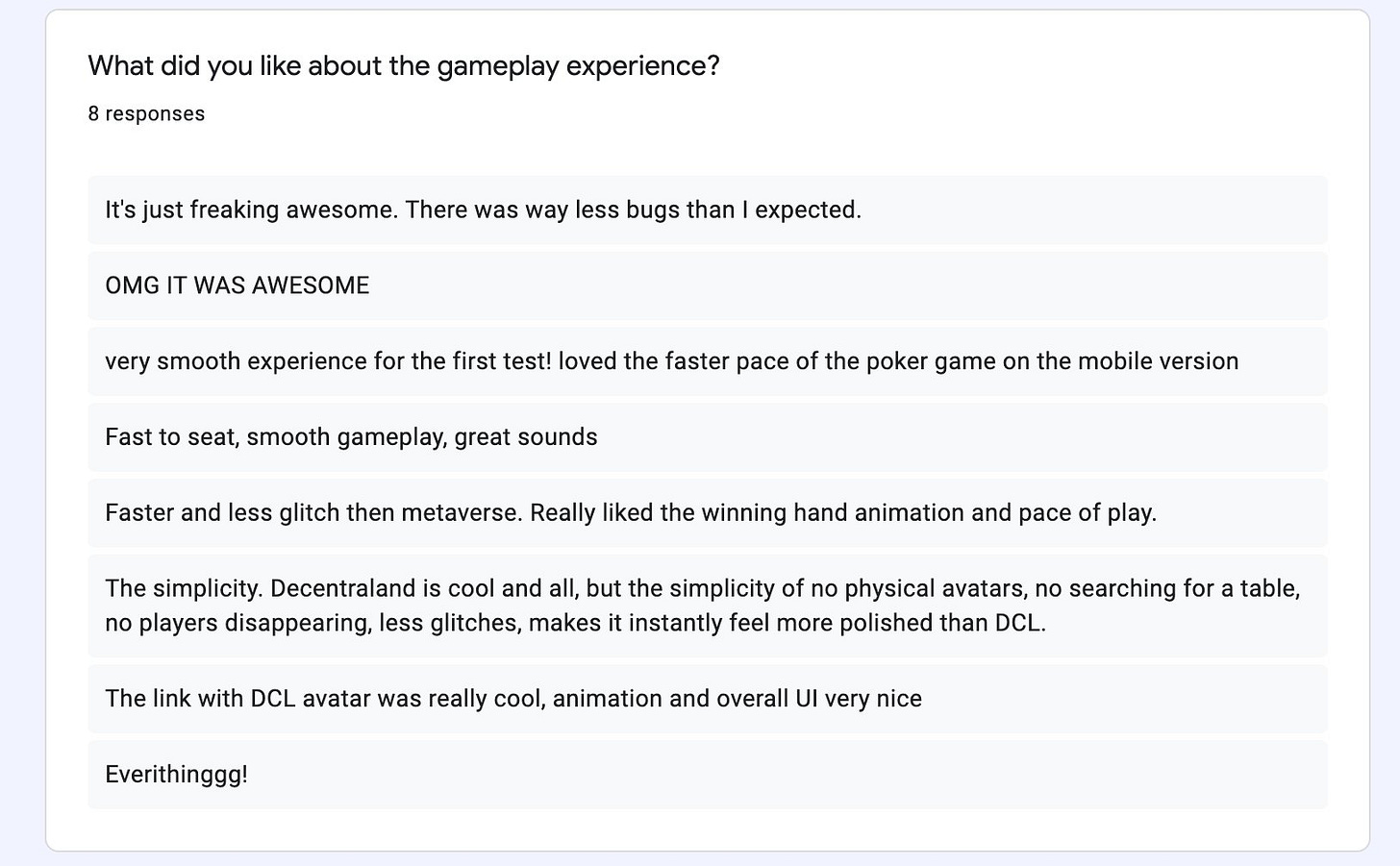 We're running more alpha tests before inviting community members to our beta testing phase.
📋 ICE Poker Go Beta Test Sign Up
Interested in helping test out ICE Poker Go?
You can sign up on our website here.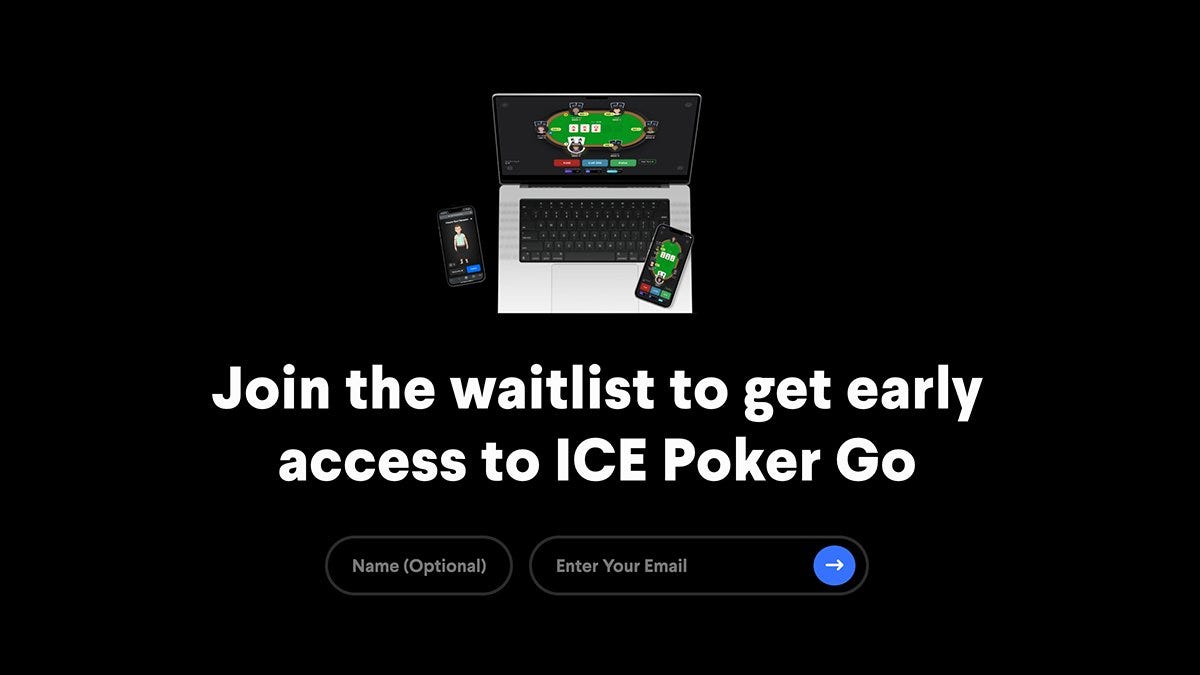 👾 Metaverse Advertising
Last Wednesday, Matthew (CMO) shared updates on our advertising deal.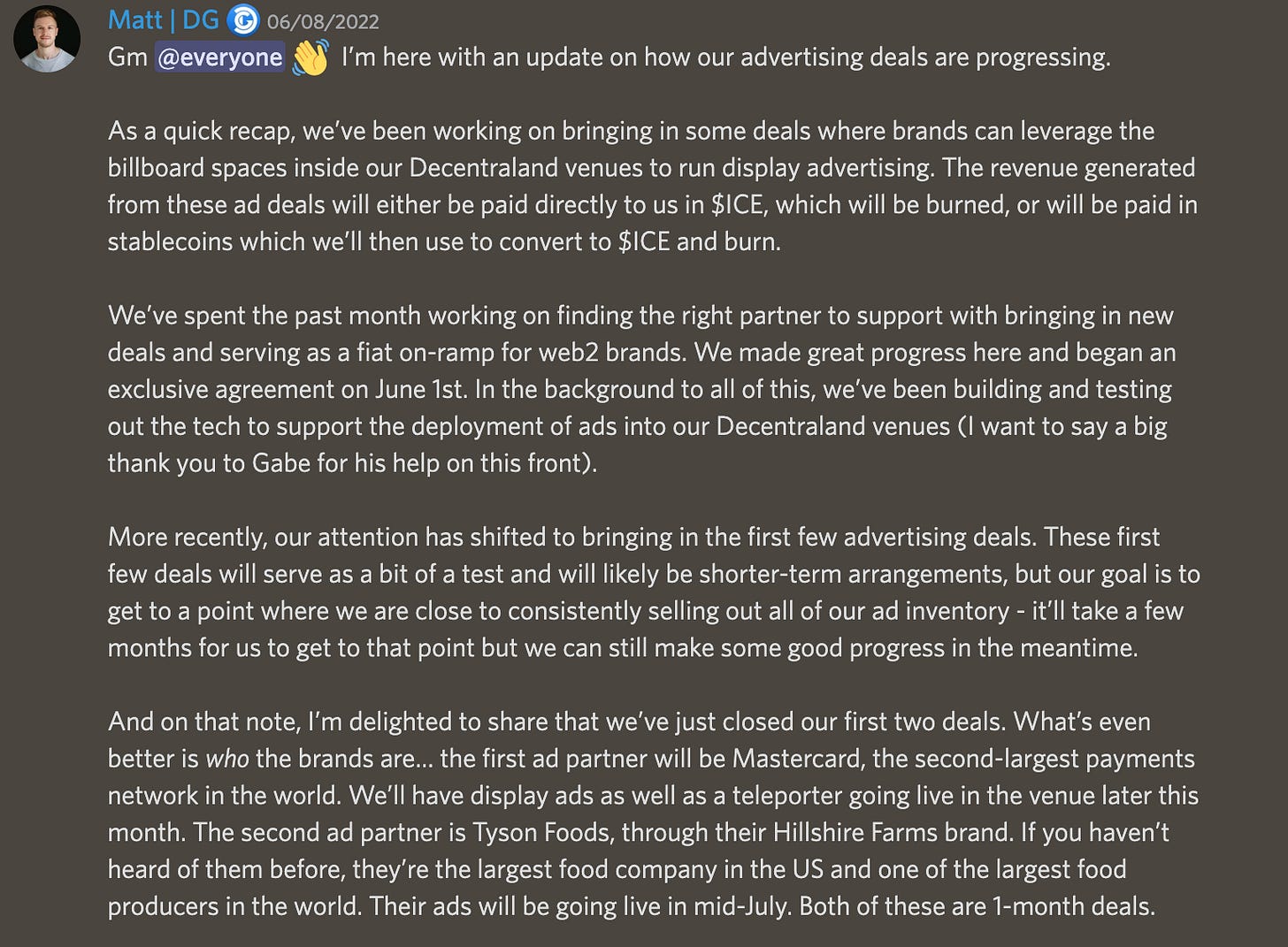 Our first ad partners will be:
Mastercard — the second-largest payment network in the world
Tyson Foods — the largest food company in the US and one of the largest food producers in the world
These ads will go live in mid-July. We'll have teleporters and leverage our Decentraland venue billboards to run display advertising. The ad revenue generated will flow directly into the ecosystem via ICE buys and burns.
We're talking with more similar-sized companies as well as smaller web3 companies. We can't share specific details at the moment but we'll give updates to the community as soon as we can.
(Big thanks to Gabe and Murph for their work on this 🙌)
You can watch a video overview or read Matthew's full post in our Discord's announcements channel here.
🏛 DG Hodler Roundtable
Last Thursday, we held our DG Hodler Roundtable. Thank you to all who joined!
We had great discussions on:
Delegation V2
Future marketing initiatives
Upcoming games modes (SNG and Go)
If you missed it then you can listen to the recording or read the notes here.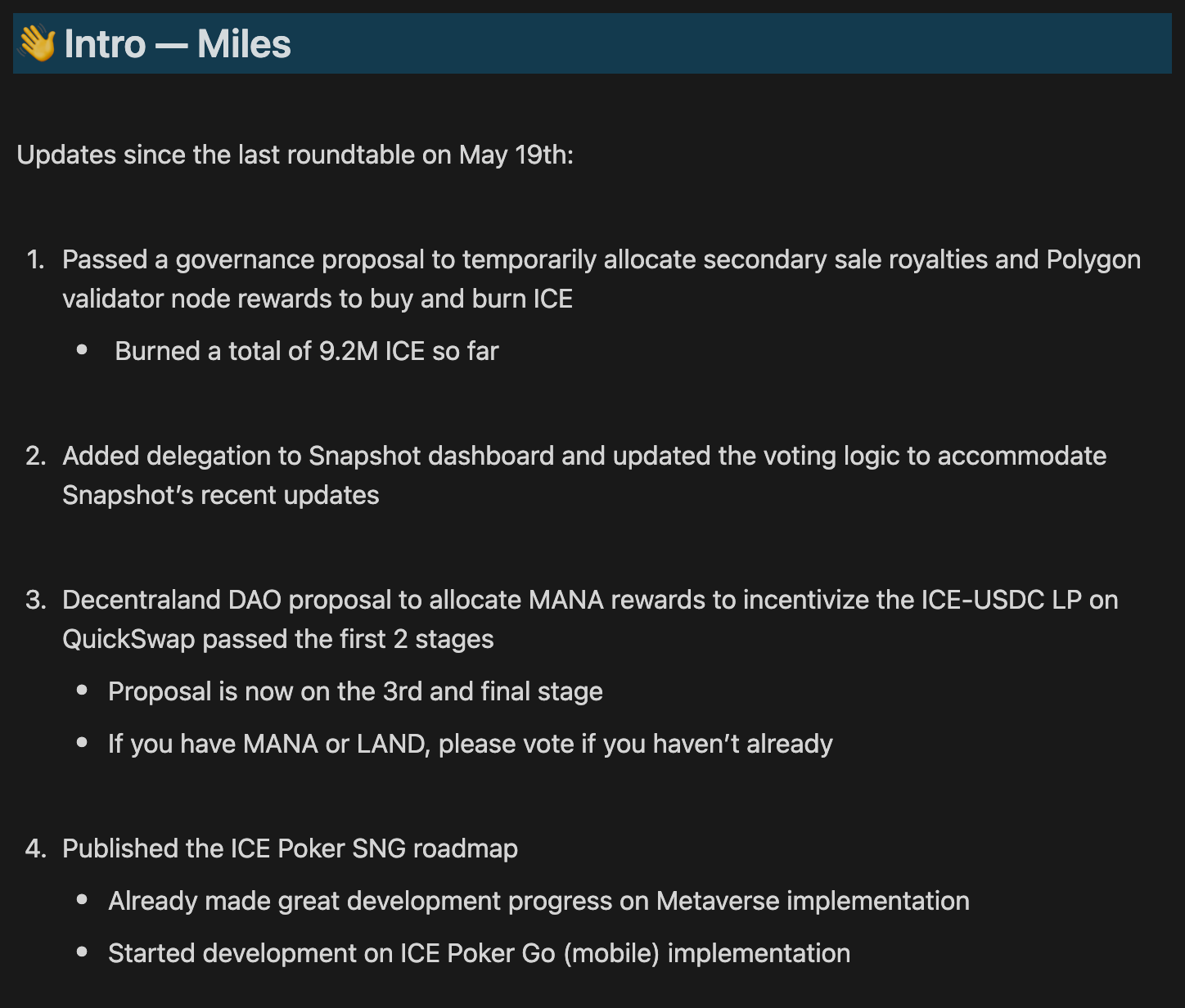 💎 ICE Purchase and Burn
Last Monday, we allocated our Polygon validator node rewards and wearable secondary sale royalties to buy and burn 5.2M ICE — our largest ICE burn to date!
These weekly ICE burns are part of our ongoing efforts to stabilize the ICE ecosystem following the passed governance proposals below:
So far we've burned a total of 9.2M ICE. We'll continue posting weekly ICE burns in Discord and on Twitter each Monday.
💻 Development Focus
This week, the DG team is continuing to work on:
ICE Poker SNG
We are:
Internally testing the Metaverse gameplay
Starting SNG implementation for ICE Poker Go (mobile)
Aiming to invite community members this week to test out the check-in flow, waiting room experience, and tournament gameplay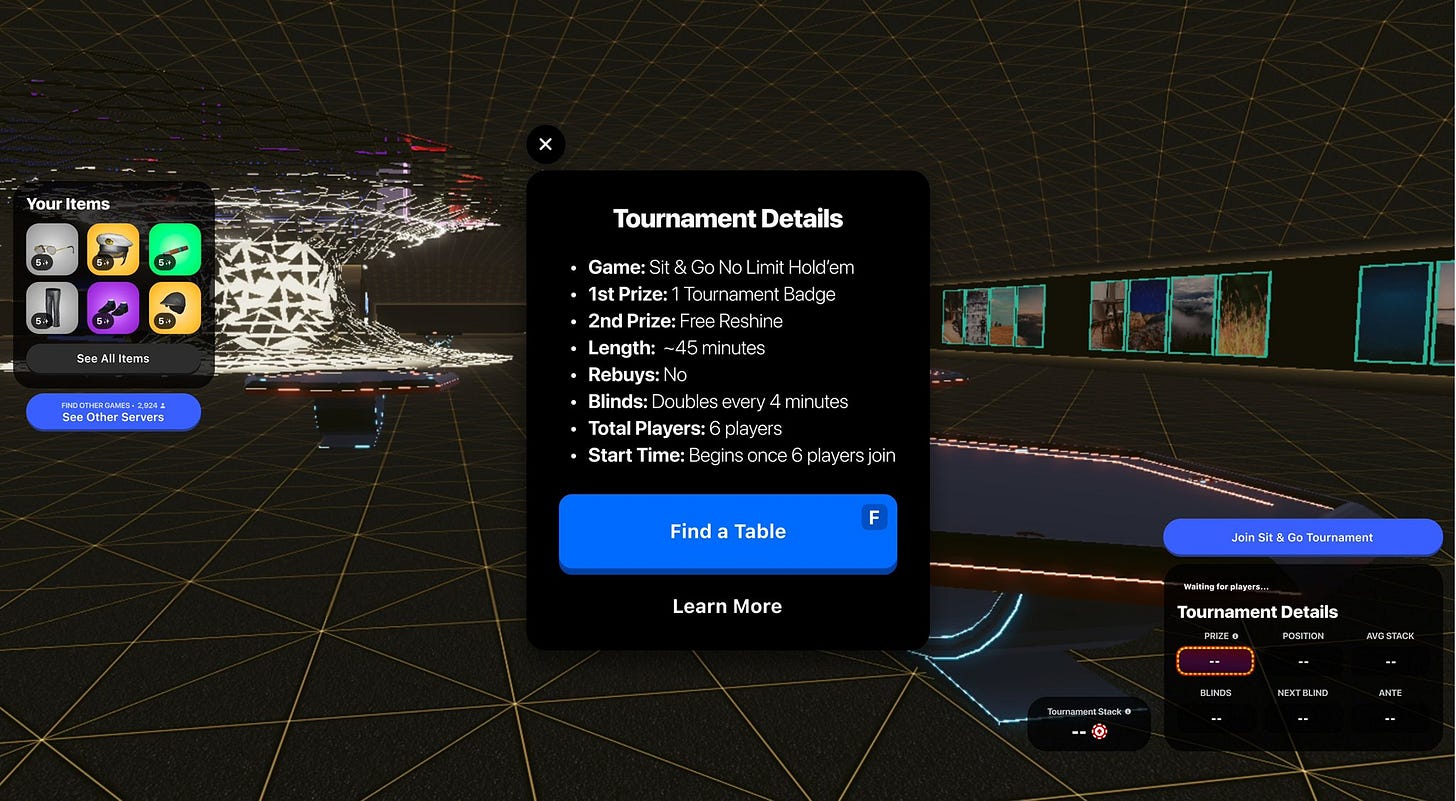 For more info on progress and timelines, you can read Leo's update in our Discord's development updates channel here.
ICE Poker Go (Mobile)
We started alpha testing on Tuesday. We'll open up testing to more community members during the beta testing phase.
Sign up for the beta test here.
Guild Leaderboard/Leagues
The guild leaderboards are going through final QA testing.
Product Roadmap
We're finalizing our holistic product roadmap to publish on the Decentral Games website.
Native NFT Marketplace
We're continuing the early development of a native Decentral Games NFT Marketplace.
The marketplace will support secondary sales of wearables in ICE and marketplace fees will be used to burn ICE.
This serves as an additional ICE sink and saves hundreds of thousands of dollars from leaving the ecosystem in OpenSea fees each month.
---
💰Treasury
The DG Treasury now holds $21.29M.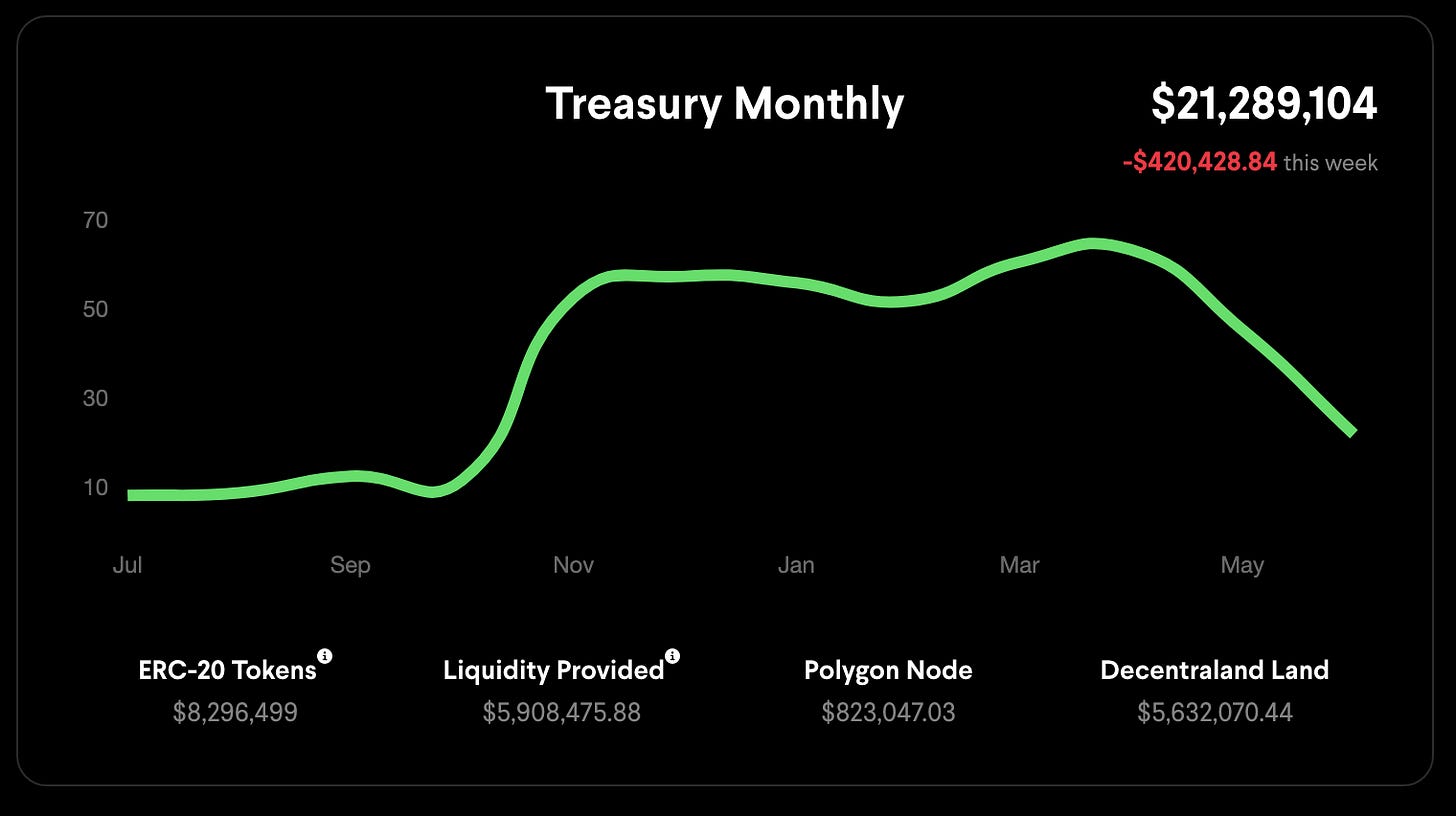 Weekly Revenue
Decentral Games generated $169,887.67 in revenue last week.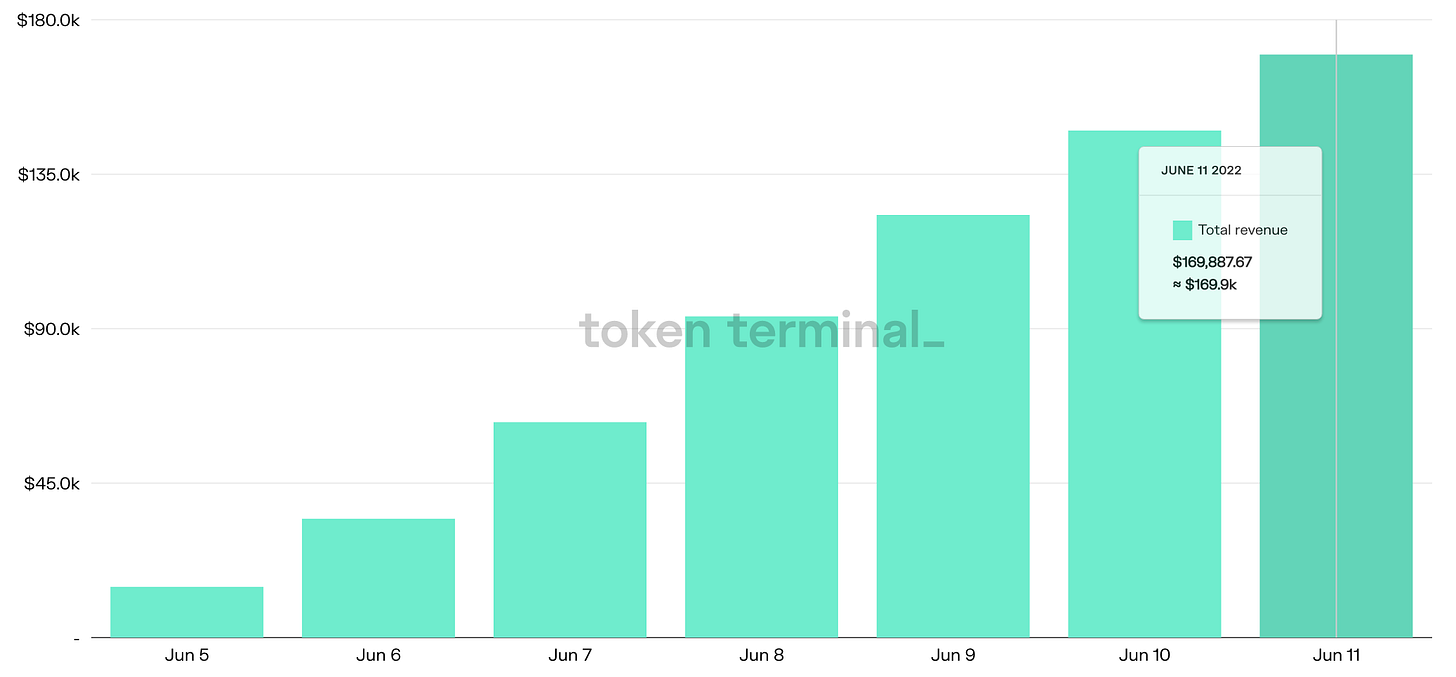 Visit the Treasury Dashboard to view DG Treasury balances in real-time.
---
🏛 Governance
Active Proposals
Passed Proposals
Visit the Decentral Games Snapshot Dashboard to make a new proposal.
---
📆 Events
Virtual events bring the community together each week to play games, hang out, enjoy live music, and entertainment, and win prizes!
Make sure to swing by Decentral Games for this week's events:
Monday, June 13
FREE Play Game Night featuring $250 USD+ in crypto prizes
FREE Play Game Night featuring $250 USD+ in crypto prizes
Tuesday, June 14
Wednesday, June 15
FREE Play Game Night featuring $250 USD+ in crypto prizes
FREE Play Game Night featuring $250 USD+ in crypto prizes
DJ Raedo LIVE Weekly EDM Party – 2hr Set

Stronghold $ICE Lounge @ 10pm UTC / 6pm EST – Learn more
Thursday, June 16
FREE Play Game Night featuring $250 USD+ in crypto prizes
King Mizo's Party & Bullish Weekly Meta Party

Stronghold $ICE Lounge @ 9pm UTC / 5pm EST – Learn more

FREE PLAY Game Night – Up Late w/ DG featuring HIP HOP Night, featuring $250+ USD in crypto prizes
Friday, June 17
Immerse with DJ Pop RoXxX w/ song requests in Discord

Stronghold $ICE Lounge @ 7pm UTC / 3pm EST – Learn more

Spanish Speaking Community FREE Play Game Night featuring $250 USD+ in crypto prizes
Sunday, June 19
Slappin' Sundays w/ Gucci Toe, 2hr weekly event

Stronghold $ICE Lounge @ 10pm UTC / 6pm EST – Learn more
Visit our events page to see more info, RSVP, and hop into events!
---
👤 We're Hiring!
The DG Careers page features all open positions at Decentral Games:
---
Caution: Beware of Phishing
Scammers impersonating the DG Team have been targeting community members through Discord DMs. DG team members will never DM you nor request you to connect your wallet to a non-DG site.
---
About Decentral Games
Decentral Games builds ICE Poker – a metaverse native, play and earn poker game that gives players economic freedom through self-custody and delegation of wearables. xDG hodlers vote on DG Treasury allocation and economic policy to grow and strengthen the DG ecosystem.
Get your Free "Beginners Guide to Crypto & Defi" here
Via Source