Volatility has once again surfaced in the world of crypto trading. The FTX insolvency has wreaked havoc on the markets. MANA coin of Decentraland has plummetted to a yearly low of $0.44 as of this writing Nov. 13. Whales are rethinking the Metaverse and pulling substantial holdings out of the market. The bearish slaughter continues with no support level being safe.
Decentraland saw a 169.11% spike in new addresses over the last seven days.
Two of MANA's whale cohorts were reducing their holdings. 
The next significant resistance for MANA price could be at the $0.66 mark, where 2,700 addresses hold 45.20 million MANA tokens. 
The global crypto market has demonstrated a sharp bearish reversal, with most altcoins, including Decentraland (MANA), trading in the red. 
MANA charted a multi-week high of $0.74 on Nov. 5, but weekend gains reversed as bears took control of price action. Nonetheless, MANA on-chain health presented a skeptical picture with few metrics spelling trouble for Decentraland prices. Its price also fluctuates in response to news and project developments. Other factors that affect the price of MANA include the flow of assets on exchanges, public sentiment, and emerging trends.
Why MANA Price Can Continue to Dump
On Nov. 8, MANA traded at $0.6223, showing over 6% daily losses. While the recent price pullback was mainly due to the more significant market trajectory, the same had significantly affected MANA's recent gains. Nov. 13, has MANA sliding almost 30% in less than one week to $0.44.
Decentraland price charted a solid 15% run over the weekend, recovering from the end of Sept. and Oct. losses.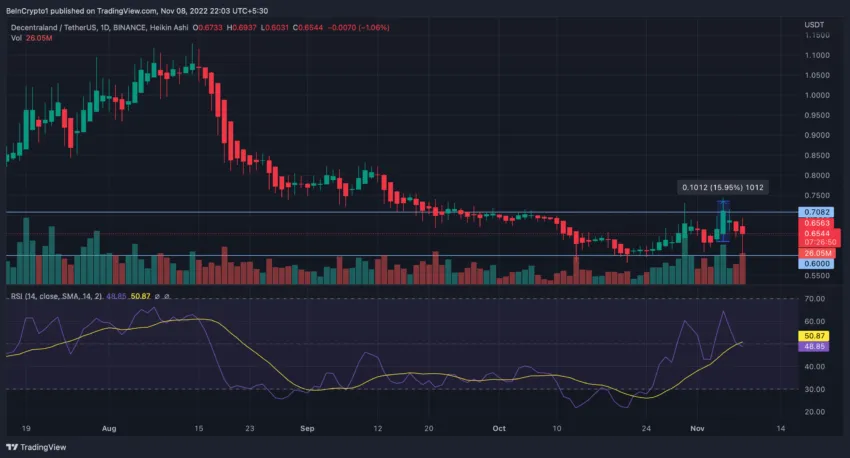 Decentraland's price saw a major resistance at the $0.70 mark. Notably, data from IntoThIntoTheBlock'sd Out of Money Around Price (IOMAP) Indicator presented that the next significant resistance for MANA price could be at the $0.66 mark, where 2700 addresses hold 45.20 million MANA tokens. 
Also See: Past MANA Price Actions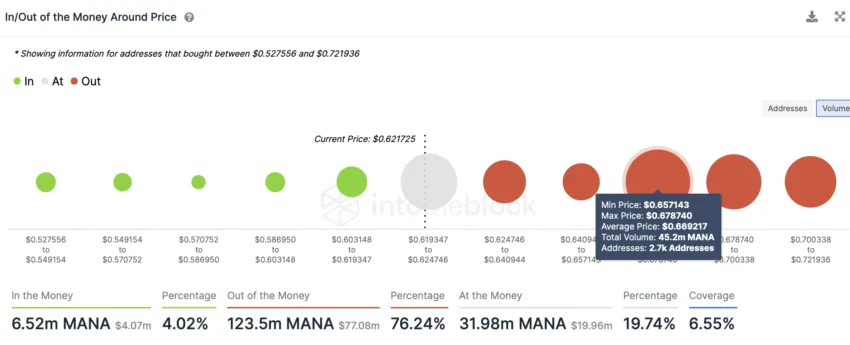 For now, a worrying fact was that there was no major support for MANA price once prices fell below the $0.61 level. 
In addition, a look at supply held by a balance of addresses suggested that two of MANA's most significant whale cohorts holding 100,000 – 1 million coins (%) and 10 million to infinite coins (%) are reducing their holdings. 

Whales Continue Exodus from Decentraland MANA
Both the whale cohorts have been reducing their holdings. MANA holders with 100,000 – 1 million coins (%) now held just 5% of the supply as opposed to 5.5% in August. Holders with 10 million to infinite coins (%) also reduced their bags over the last week. 
While whales with 1 million – 10 million coins (%) accumulated from Nov. 4 to Nov. 7, there was a slight drop in their holding on Nov. 8. 
Despite whales reducing their bags, a few metrics suggested a MANA recovery could be swift in case bulls decide to take the wheel. 
Can New Participants Save Decentraland?
One of the most bullish trends for Decentraland price over the last week was that seven-day new addresses spiked by almost 169.11%. Active addresses also saw a healthy 68.9% uptick over the previous week.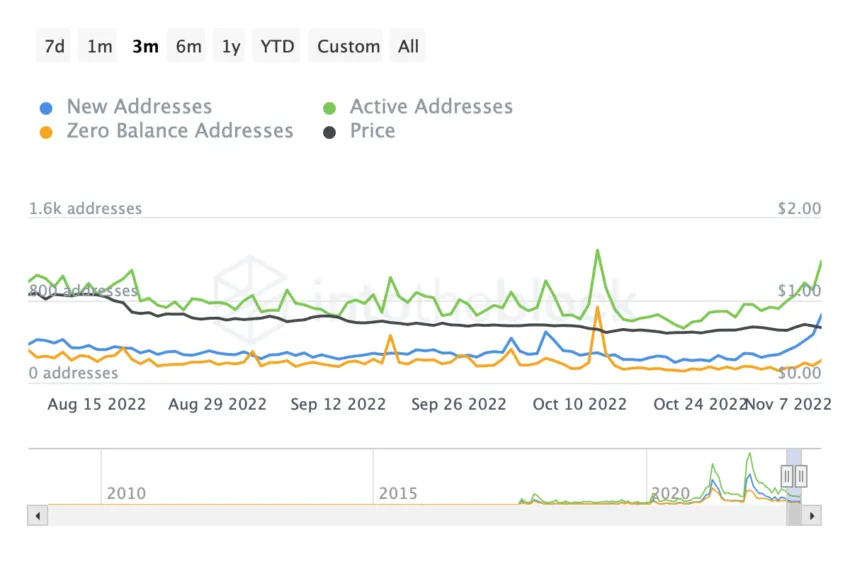 New participants flocking to a network is often considered a bullish trend and helps price recovery. However, MANA's inflows and active deposits noted a significant spike pointing towards a bearish sentiment for Decentraland among traders and investors. 

The same can point toward major sell-offs when active deposits spike alongside exchange inflows. While MANA network growth has shown one of the most notable upticks seen to date, with bears taking over the market, there isn't network growth that can offer in terms of price appreciation. 
For bulls, it will be crucial to keep prices above the $0.61 level since IOMAP Indicator suggested no significant support for the token below the price. However, in the case of the bearish invalidation, while not seen lately, MANA could expect a retest of the upper $0.70 mark. 
Get your Free "Beginners Guide to Crypto & Defi" here."