A rapper and writer express their views on the current crypto crash. While everyone has an opinion some reality is found in the messages they project. Real Vison bot does pick MANA token as overweight in an AI trading platform.
Snoop Dogg says
"Crypto crash "WEEDS OUT" the players that wasn't supposed to be there." American rapper and NFT enthusiast Snoop Dogg believes that every great industry goes through a downfall and cryptocurrency will surely bounce back.
"Rich Dad Poor Dad" author Robert Kiyosaki has another "rich dad lesson" for those that are quitting Bitcoin
RICH Dad lesson. "LOSERS quit when they lose.
" Bitcoin losers are quitting some committing suicide.'WINNERs learn from their losses. I am waiting for Bitcoin to "test" $1100. If it recovers I will buy more. If it does not I will wait for losers to "capitulate" quit then buy more."
BTC/USD at its current prices. In his latest round of free advice, Kiyosaki said while Bitcoin losers are quitting when they are down, the winners will be the ones who learn from their losses.
Bot Picks MANA Token as Overweight
A robot with a reputation for outpacing the crypto markets is presenting its latest portfolio allocations as Bitcoin (BTC) and Ethereum (ETH) attempt to stay afloat.
Each week the Real Vision Bot conducts surveys in order to create algorithmic portfolio assessments consistent with a "hive mind" consensus.
The bot's newest data finds that traders' risk appetite is increasing as most market participants voted to overweight their portfolios with 17 altcoins, in addition to crypto stalwarts Bitcoin at 69% and Ethereum at 62%.
Coming in a close third was layer-1 blockchain protocol Solana (SOL) at 58% overweight, followed by popular cryptocurrency exchange Binance's native token BNB at 33% and layer-2 scaling solution Polygon (MATIC) at 31%.
"Latest results of the RealVision Exchange crypto survey. Risk appetite is increasing. Percentage of participants who voted for overweight.
1. Bitcoin 69%
2. Ethereum 62%
3. Solana 58%
4. Binance 33%
5. Polygon 31%"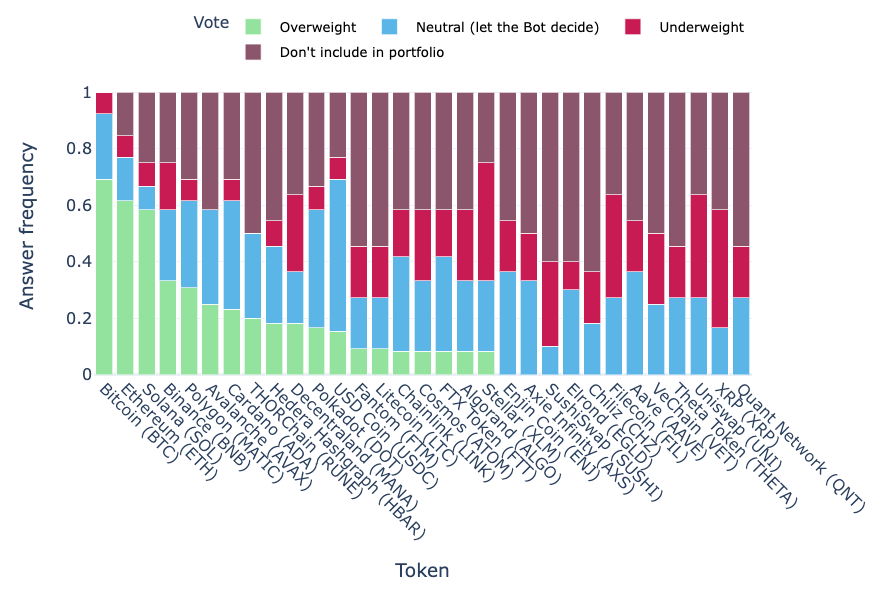 Other prominent digital assets that participants voted as "overweight" include Ethereum rival Avalanche (AVAX) at 25%, decentralized blockchain Cardano (ADA) at 20%, cross-chain liquidity protocol THORChain (RUNE) at 20%, as well as application-creating protocol Hedera Hashgraph (HBAR) and virtual world Decentraland (MANA) receiving 18%.
Image: Coin Marketcap
Cross-chain interoperability protocol Polkadot (DOT) was voted 16% overweight with dollar-pegged stablecoin US Dollar Coin (USDC) just one percentage point behind.
Seven other altcoins received overweight votes between 8% and 9%, including oracle network Chainlink (LINK) and smart contract platform Fantom (FTM).
The Real Vision Bot was co-developed by quant analyst and hedge fund CEO Moritz Seibert and statistician Moritz Heiden.
Real Vision founder and macro economic expert Raoul Pal has called the bot's historic performance "astonishing," saying it outperforms an aggregated bucket of top 20 crypto assets on the market by more than 20%.
Featured Image: Shutterstock/Kartavaya Olya/Sol Invictus
Get your Free "Beginners Guide to Crypto & Defi" here
Via Site Here
Via Site Here
Via this siteSnoop says"Recent Crypto Crash "WEEDS OUT" Posers – While AI Bot Picks Altcoin MANA as Overweight July 2022