Metaverse worlds in the crypto-verse seem to have lost some appeal for users. The luster for most has waned in the past twelve months, as witnessed by falling price action, cheaper virtual real estate, and a lack of interest in the NFT markets. While some aspects are continuing to develop, enhance, and grow their respective virtual reality worlds. Below are tips and the best ways to enter a Metaverse to witness for yourself.
The term "metaverse" first came into popular culture through Neal Stephenson's iconic novel, Snow Crash, published in 1992. The book described it as a shared imaginary realm available to users across a global network. While there are several competing views on the metaverse, there is a unanimous consensus that it is the next step for the internet, marking a clear shift from the closed, text-heavy ecosystem to 3D spaces where users can interact through avatars. 
Table Of Content
1. What Is The Most Popular Metaverse?
Virtual Real Estate Metaverse
Social Spaces Metaverse
NFT Art Galleries Metaverse
Play-To-Earn Metaverse Games
2. Ways To Get Into The Metaverse
How to Access The Metaverse On Oculus Quest 2?
Can You Access The Metaverse Without VR? 
How To Access The Metaverse On Personal Computer
How To Access The Metaverse On iPhone or Android
How To Access The Metaverse On PS5
Can You Access The Metaverse On PS4?
3. What Can You Do In The Metaverse?
4. Top Metaverse Crypto Projects To Watch
5. How To Invest In Metaverse?
1. What Is The Most Popular Metaverse?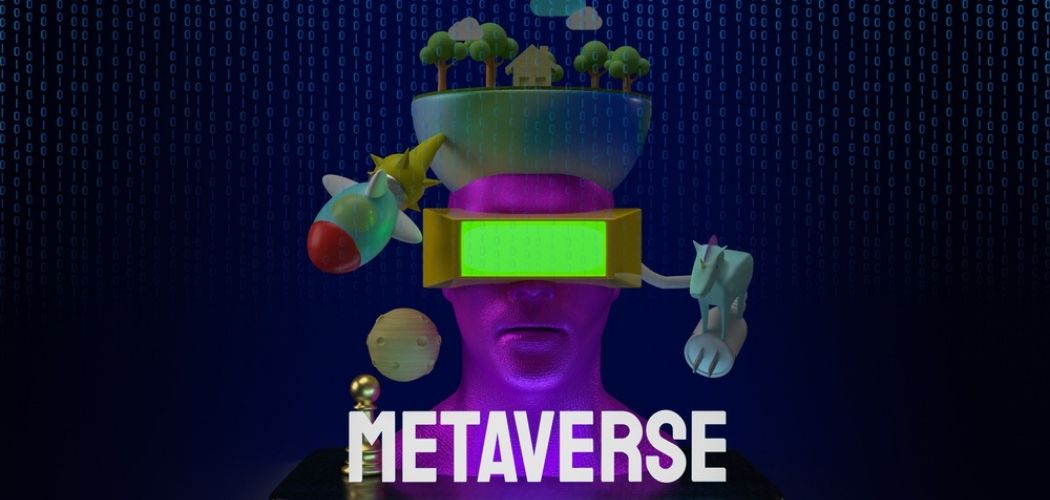 Metaverses are the future of Virtual Reality.
Different metaverses fulfill different roles for users. Virtual real-estate metaverses allow users to purchase virtual parcels of land. Social metaverses enable users to interact with other users in a virtual world. Meanwhile, NFT art gallery metaverses would allow users to create their own virtual NFT gallery in the metaverse. On the other hand, play-to-earn metaverses are ushering in a revolution in the gaming industry, enabling players to monetize the time spent playing their favorite games. 
1.1 Virtual Real Estate Metaverse
Real estate in the metaverse comprises land parcels located in the virtual world. These properties are programmable, allowing users to buy, sell, or rent them using metaverse tokens or cryptos. The land parcels in the metaverse are secured as NFTs, with every purchase recorded on the blockchain. The buying and selling of virtual real estate in the metaverse function similarly to regular property transactions in the real world. 
Related news: Rent your virtual real estate
Users who purchase a virtual land parcel are given a title for each property. This title is stored in a secure registry, and a copy is provided to them as proof of ownership. A majority of the real estate in the metaverse is owned by two dominant players, Decentraland and the Sandbox. 
1.2 Social Spaces Metaverse
Many believe that the metaverse will eventually replace social media, with companies like Meta already focused on creating their metaverse. The metaverse can be a valid extension of social media, giving users an entirely new and immersive experience. 
Many platforms that were once considered gaming platforms are gradually molding themselves into virtual social spaces. These platforms include the likes of Roblox and Fortnite. However, the metaverse already boasts of dedicated social media platforms, with one prominent example being Gravity. Gravity became the first trustworthy social media platform in the metaverse, allowing them to manage their feed, and earn rewards for being on the platform. 
1.3 NFT Art Galleries Metaverse
NFTs and virtual art are both seeing a significant push, with experts agreeing that this new avenue for art could unlock the industry's potential. Of course, in-person galleries are not going anywhere. Still, metaverse galleries give the average user significantly more accessibility, new digital experiences, and a new avenue to view recent work. 
Metaverse galleries allow users to explore art entirely autonomously, allowing users to enter their artwork and experience it from within the artwork. Metaverse galleries are incredibly beneficial for digital artists who have struggled to display their artwork to potential buyers. Artists can also display artwork in established metaverse galleries such as Sotheby's in Decentraland. 
1.4 Play-To-Earn Metaverse Games
Play-to-earn allows users to monetize the time spent playing games and earn crypto. The concept ushers in a complete revolution in the gaming industry, allowing players to claim ownership over their in-game assets. Increased participation in the in-game economy creates additional value for other players in the ecosystem and the creators. One of the most prominent examples of play-to-earn games in the metaverse is Axie Infinity.
More on P2E: P2E opportunities in virtual reality
2. Ways To Get Into The Metaverse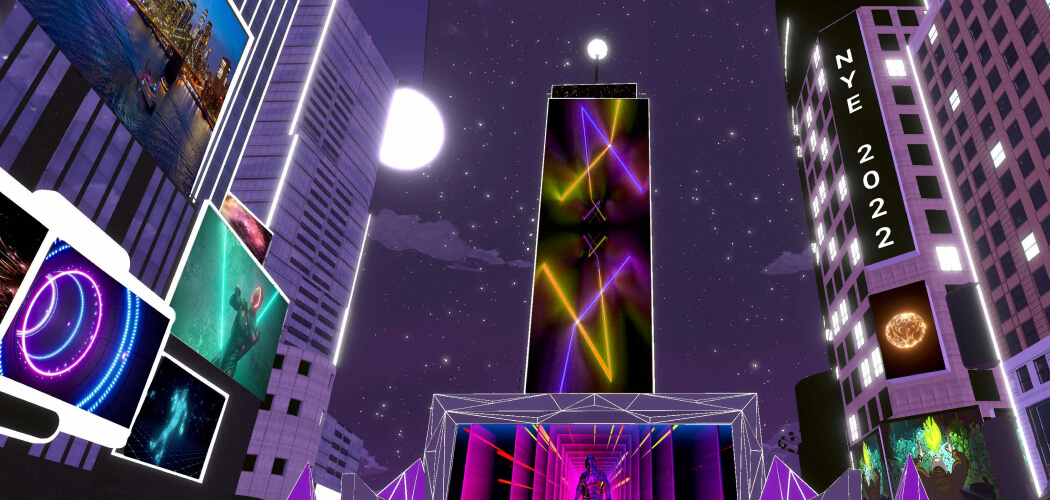 Enter the metaverse
The metaverse may come across as imposing, inaccessible, and quite intimidating. The metaverse concept primarily focused on virtual reality (VR) and augmented reality (AR). However, the metaverse is not restrictive, which means there are several ways through which one can access the metaverse. Some metaverse experiences are not entirely VR/AR-based, allowing users to use other devices such as consoles, smartphones, and laptops.
2.1 How To Access The Metaverse On Oculus Quest 2?
The Quest 2 is among the most affordable and convenient VR headsets. Accessing the metaverse through the Oculus Quest 2 is relatively straightforward. Here's what you need to access the metaverse using the Oculus Quest 2. 
The first thing you would need is an Oculus Quest 2 headset. Remember, VR gives you the most immersive experience, so ensure your VR headset is charged to a decent level.
Secondly, you require a compatible metaverse application or game to access the metaverse. Choosing an application won't be difficult since several apps and games are available for you to choose. 
The following requirement to access the metaverse using the Oculus Quest 2 is pretty obvious, an internet connection. The metaverse is entirely based in a virtual world, which means you would require constant WiFi connectivity. 
Can You Access The Metaverse Without VR?
The metaverse is an integrated network of virtual worlds accessed through a virtual reality (VR) headset, which allows users to navigate through it. Anyone with a computer or smartphone can have a metaverse experience. While VR is considered critical in accessing the metaverse, a lack of access to it does not restrict users. A broader level of accessibility is essential in allowing it to gain traction with users.
2.2 How To Access The Metaverse On a PC 
You can also access the metaverse on a PC. However, it is essential to remember that all computer systems differ according to their configuration. Gaining access means the metaverse experience on a PC is dependent entirely on the hardware specification of the system. While you may be able to access the metaverse using a low-end configuration PC, you will have to put up with lag and non-responsive controls when navigating the metaverse. This is why you require a high-end machine to access the metaverse on a PC. 
2.3 How To Access The Metaverse On a Phone
As a user, you can also access the metaverse on your mobile device. While the metaverse is mainly confined to VR sets, you can access it on mobile through play-to-earn games such as Axie Infinity. While the game is not officially listed in the Play Store or the Apple app store, Players can download it on their Android and iOS devices by downloading an APK file and installing the app on their devices. 
Phone manufacturers like HTC are also building metaverse-compatible phones and incorporating crypto and NFT functionality. These phones come preloaded with various applications that allow you to access and manage your metaverse content. These devices can work alongside HTC's Vive Flow VR headset, allowing users to mirror content directly to a VR headset.
2.4 How To Access The Metaverse On PS5
Sony is not taking the metaverse lightly, which means that, yes, you can access the metaverse on PS5. The company has already unveiled the new generation of its VR headset, the PlayStation VR2, highlighting its ambitions for the metaverse. The PlayStation 5 already hosts one of the most popular free-to-play titles in history, Fortnite. The game started as any other video game title before morphing into something more, with users using the platform to hang out. 
Fortnite has also hosted concerts and other non-game events, becoming more of a social platform. It has also launched Party Worlds, an expansion that allows users to hang out, and create their own Party World, making the game a full-fledged metaverse experience for users.
2.5 Can You Access The Metaverse On PS4
Yes, you can access the metaverse on the PlayStation 4. Just follow these few simple steps.
Go to the Playstation Store on your PS4 home screen.
Once in the main menu, search for Fortnite using the search option.
Once you find the game, download it on your PS4. Remember, Fortnite is free to play, so no credit card details are required.
Once downloaded, launch the game, log in, and start playing.
3. What Can You Do In The Metaverse?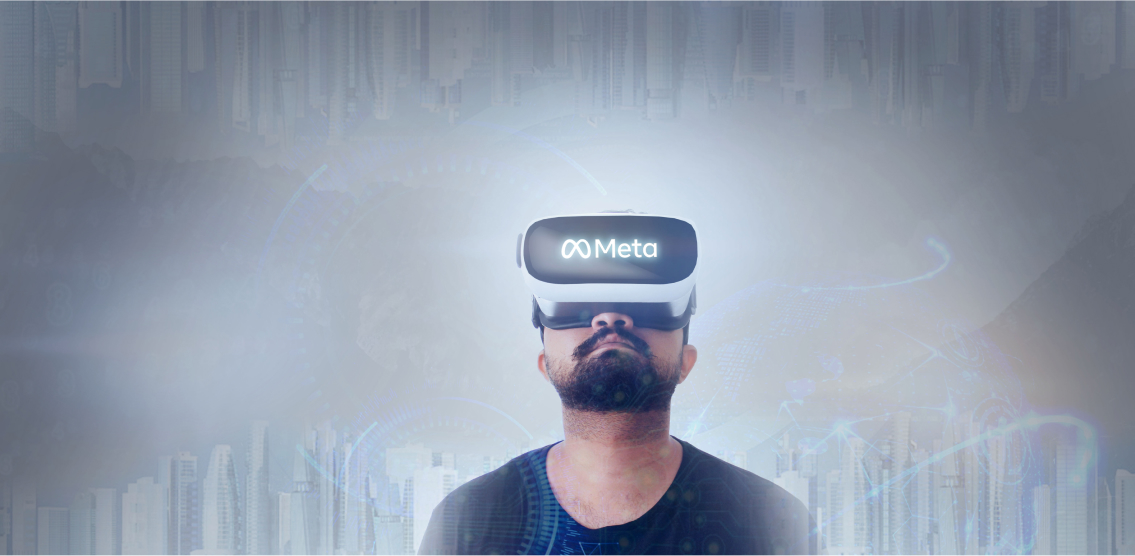 The metaverse is versatile.
The metaverse has opened up a world of possibilities for users, blurring the lines between reality and virtual reality. The metaverse is a 24/7 world filled with economies that look to monetize a new network of creators and infrastructure providers, allowing users to leverage NFTs and blockchain technology, enabling them to purchase virtual land and create their worlds. It also allows users to meet in a virtual world, undertake business activities, or hang out. 
Explore Virtual Worlds
We have seen games such as Roblox and Minecraft give users metaverse-like experiences for nearly a decade. Second Life is also popular; users have even documented their lives in the game, attended events, and earned the in-game currency. 
Now, games such as Decentraland and the Sandbox have come to the fore, leading a revolution in the gaming industry by adding digital assets. Players can import NFTs into the game and purchase virtual parcels of land. Users who hold the games' governance token can also have a say in the platform's future direction.
Meet Other Users
The metaverse could also become the epicenter of your social life, with plenty of hangout spaces. Decentraland and the Sandbox allow users to assemble in their open worlds. However, other platforms, such as Spatial, have been created to host events, conferences, and meetings.
Other companies, such as Metahub, are also creating virtual spaces for conferences and business events, and Decentraland even hosted a music festival in 2021.
Invest In Virtual Land
There are several ways through which you can invest in the virtual world. You could invest in NFT avatar drops or speculate on in-game items and virtual land parcels such as those on offer on Decentraland, Axie Infinity, and the Sandbox.
4. Top Metaverse Crypto Projects To Watch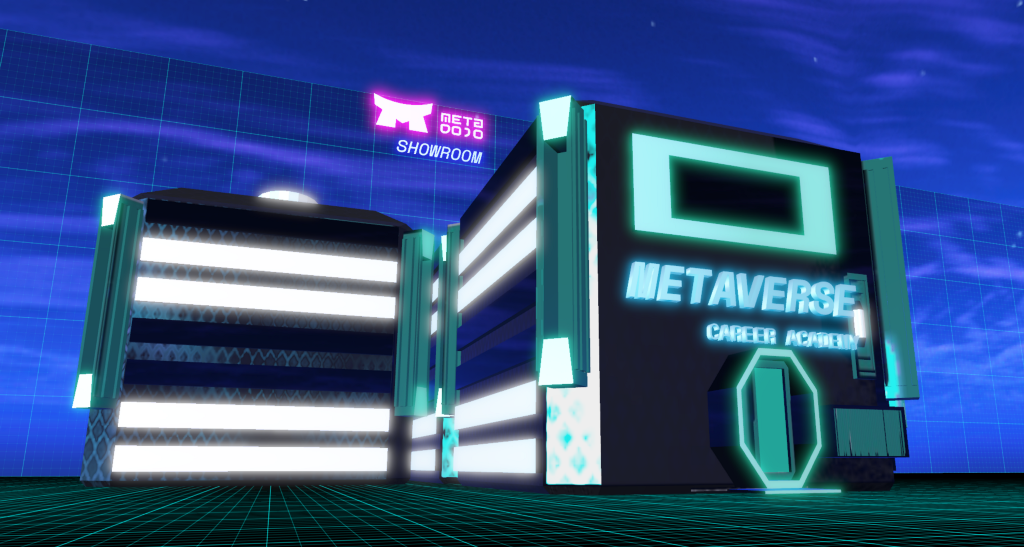 Check out the most popular metaverse projects. Here are some of the projects in the metaverse. 
Decentraland
Decentraland is a hugely popular metaverse blockchain project, allowing users to meet other users, shop, play games, and create new projects. Users can also purchase virtual plots of land on Decentraland using the native MANA token. The project was created by Esteban Ordano and Ari Meilich and was launched in 2020. During the crypto bull run, Decentraland caught the attention of major brands that bought properties on it. These brands included Atari, Samsung, Adidas, and PriceWaterhouseCoopers. 
Samsung Launches "House of Sam"
Decentraland also held its fashion week, featuring major fashion brands such as Tommy Hilfiger, Dolce & Gabbana, Elie Saab, Perry Elie, and others. Sotheby's also held its first metaverse auction on Decentraland in March 2020.
Sandbox
The Sandbox was created by Pixowl and launched in 2011. However, it was acquired by Animoca Brands in 2018 and switched its focus toward creating a blockchain-based 3d version of the game, which allowed users to buy, sell, and create in-game assets in the form of NFTs. The platform has also announced several high-profile partnerships with CryptoKitties, Shaun the Sheep, The Smurfs, Snoop Dogg, and The Walking Dead.
Axie Infinity
Axie Infinity is an NFT-based online game published by Sky Mavis. The game has established itself as one of the most popular metaverse projects and is known for its vibrant in-game economy. The game has endeared itself to its audience thanks to its endearing characters called Axies. Players have taken to Axie Infinity in hordes, with the platform giving them a chance to earn money while playing their favorite game.
5. How To Invest In Metaverse?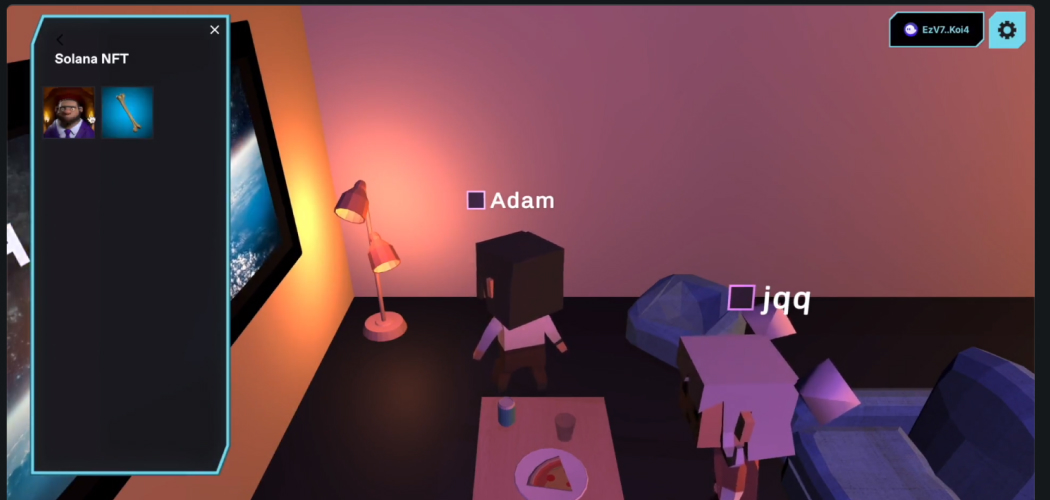 Get a piece of the metaverse pie.
Citi has predicted that by 2030, the metaverse will present a $13 trillion opportunity, with the number of users growing exponentially. Users will ask, "how can they invest in the metaverse?" 

You can invest in the metaverse in several ways,
Investors can directly invest in the metaverse through the following,
Purchasing in-game tokens
Purchasing in-game assets and NFTs
Purchasing virtual land in the metaverse
Trading or investing in crypto tokens
There is an indirect approach for those who do not wish to invest directly. Using the indirect method, investors can 
Purchase stocks associated with the metaverse and associated projects. Popular options include Roblox, NVIDIA, Facebook, and Apple.
They can also invest in the Metaverse Index (MVI).
Get your Free "Beginners Guide to Crypto & Defi" here.

Via this site